As expected, Sydney FC are unchanged. That's a full-strength line-up with some formidable strike power off the bench.
One change for the Glory — and it's a little surprising. Joel Chianese starts up front alongside Chris Ikonomidis at the expense of Andy Keogh, who drops to the bench. It's a move Tony Popovic has pulled off a few times this season and no doubt he has his reasons, which we'll find out soon when he speaks to Fox Sports on the telecast. Chianese has had a pretty incredible campaign and is probably more mobile while Keogh will give them some late legs if this game goes the distance, which it very well could.
While we wait for the team news, let's plug some of the work Mr Bossi and I have been doing throughout the week to preview this match.
Dom cranked out a great read on retiring Sydney FC skipper Alex Brosque, with former coach Graham Arnold revaling how he was happy to accept cut-price wages in his final two seasons so that the squad could stick together and stay under the salary cap.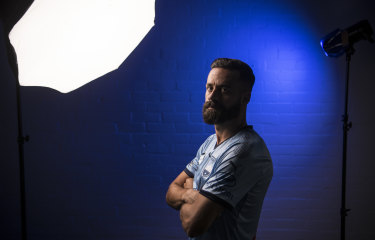 I spoke to Daniel De Silva, who will most likely come off the bench tonight. It's hard to believe it but it's been six years already since De Silva was signed by AS Roma, and he hasn't quite kicked on in his career like most people thought he would. This season he had a fair excuse, with injury forcing him to sit out about one third of Sydney's games, but he's still prone to the odd moment of sheer brilliance and the Sky Blues will be hoping he pulls one out in Perth.
The Age's Michael Lynch took us back in time to Perth's famous 2000 NSL grand final against the Wollongong Wolves. It finished 3-3 and went to penalties, with the Wolves winning the shootout 7-6. But that description doesn't do it justice. Read Lynchy's yarn and then seek out some highlights on YouTube before kick-off.
Hello and welcome to the Herald's live coverage of the A-League grand final between Perth Glory and Sydney FC. I'm Vince Rugari, holding up the fort back in Sydney while my colleague Dominic Bossi takes in the action in person over in the west.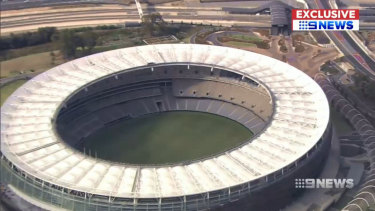 Grand finals rarely fail to deliver in the A-League and tonight should be no exception. Perth and Sydney have been easily the two best teams this season so there'll be a fair bit of quality on the pitch, and a lot of people in the stands — 60,000 is the capacity at Optus Stadium and it should be very, very close to a full house.
We'll have team news for you as soon as it's available but changes are probably unlikely, with the Sky Blues tipped to go with the same XI that smashed Melbourne Victory 6-1 in the semis, and the Glory expected to do the same after their dramatic penalty shootout win over Adelaide United.