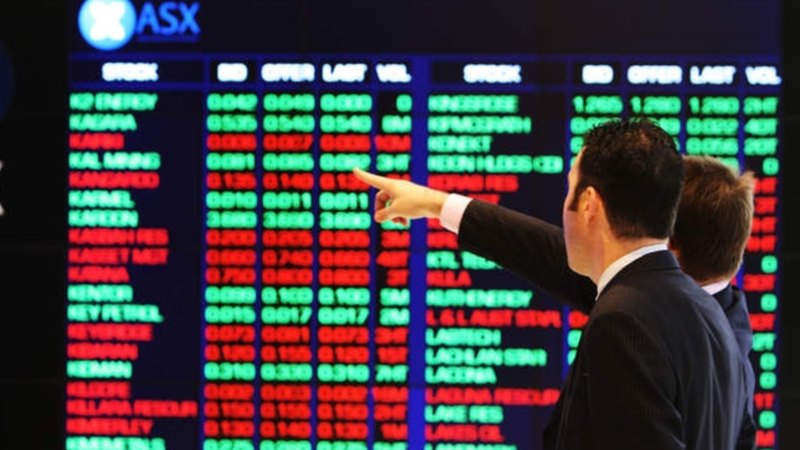 Managing director of the $6 billion Argo Investments, Jason Beddow, says he was a little surprised by the magnitude of the gains made in the finance sector this morning.
«[Today's 5 per cent rise] does seem a pretty big move considering the banks have not participated in the rally in the last few months, but they have not been that far behind,» he says. Today's buying may be a bit of «short covering» and algorithmic trading, he adds.
While the Coalition's victory removes some of the uncertainty surrounding the banks, he warns that «the Royal Commission is not that far in the rear view mirror» with corporate regulators better funded and tighter capital requirements.
Another Blue Sky update has come through this afternoon, this time relating to its smaller sister fund Blue Sky Alternative Access Fund (BAF). This afternoon BAF announced it had taken steps last week to secure control of a bank account holding $29 million and replace the Blue Sky signatories with BAF directors so it can go ahead with its deal with Wilson Asset Management.
«BAF is considering its options and will take such action as is considered necessary to protect its investment portfolio,» BAF said in a statement.
It added that with the uncertain financial and control situation at Blue Sky Alternative Investments it would enter into a Memorandum of Understanding with Wilson Asset Management so that its shareholders could vote on the proposal.
BAF said it is also taking legal advice on its options.
As we head into the final minutes of trading the S&P/ASX 200 is evenly split with 100 companies higher, 95 lower and 4 unchanged.
It is trading 100 points higher due to the weight of the financial sector. Without the gains in banks, insurers, and fund managers it would be a very normal day on the market.
Volumes are high at 490 million and the index is at 6469 points, a 12-year high.
More than $140 million of significant one-off costs has halved the earnings of fertiliser and chemicals manufacturer Incitec Pivot, which has posted a statutory net profit after tax of $42 million for the first half of 2018-19.
The «non-recurring events» include a $60 million hit to earnings before interest and tax (EBIT) caused by a rail outage in Queensland which disrupted transport of Incitec's products to port, following severe flooding earlier this year. This event is also expected to deliver a further $55 million hit to EBIT in the second half of the year.
Earnings was also affected by unplanned outages at two of the company's facilities, Waggaman in the US and Phosphate Hill in Queensland, which will cost about $55 million. And a gas pipeline rupture in the United States delivered a $16 million hit to earnings thanks to its impact on gas costs and production at the company's St Helens facility.
Overall, the company recorded EBIT of $119 million, down from $240 million in the first half of last year. It declared an unfranked interim dividend of 1.3 cents per share, for a payout ratio of 50 per cent of net profit after tax. The unfranked dividend will be paid on July 1.
Shares are down 3 per cent to $3.23 today against a 1.6 per cent rise in the market. Read the full story by Darren Gray here.
Tanya Plibersek has confirmed she will not contest the Labor leadership.
Finance sector analyst at Watermark Funds Mangement, Harry Dudley, explains commercial real estate investment trusts are not getting a boost because they were seen as a good alternative investment when a change in franking credit refund policy was looking likely.
«The relative value of bank dividends increases as investors have the confidence in the use of franking credits, this explains some of the softness of the REITs sector too.» Mr Dudley tells me.
«The potential for an increase of the bank levy has reduced although not completely ruled out. The overall risk of an accelerated downturn in the housing market has reduced given more certainty around negative gearing and capital gains taxes, although we wouldn't expect this to dramatically change the downward trajectory of the housing market.»
Real estate stocks underperforming today include Goodman Group, down 1.2 per cent to $13.54, Dexus down 0.8 per cent to $12.94, and Unibail-Rodamco down 1.2 per cent to $11.53.
Lower wool trading volumes due to drought, combined with continued business investment have cut the underlying net profit after tax of the listed agribusiness Elders by 34 per cent to $26.4 million for the first half. Shares are down 0.08 per cent to $6.57 compared to a market rise of 1.6 per cent.
Elders' underlying earnings before interest and tax (EBIT) was down 27 per cent to $33.5 million for the half, with chief executive Mark Allison saying Australian agriculture had experienced «very difficult conditions» in the half, with many of Elders» clients experiencing these challenges.
The historic agribusiness, which is headquartered in Adelaide, said it was on track for a full year net profit after tax of $61-65 million, which is in line with last year's NPAT of $63.7 million. And it said it was on track for full year underlying EBIT of $72-75 million, compared to last year's result of $74.6 million.
Mr Allison said that while reduced summer crop production and farm plantings were down, Elders' results were aided by its geographic diversification.
Debt rating agency Moody's says the election has «limited implications for the country's credit outlook» because both sides of government show a broad commitment to the economic reform and fiscal consolidation.
«More important differences exist around energy and climate change, but significant changes to these policy areas are less likely with the Coalition still in charge of the House,» senior credit officer sovereign risk group at Moody's Investors Service, Martin Petch, writes in a note to clients today.
«Australia's underlying economic and institutional strengths continue to support the country's credit profile. However, the potential impact of fragmented representation in the Senate on policy making, exposure to high external liabilities, and high levels of household debt remain important credit challenges.»
So how is the Senate looking? Well, out of 76 Senate seats we know the outcome of 73. The Coalition has 33, but this is not enough for a majority. It looks like there will be a cross bench of five independent Senators, possibly eight, and the government will need to get six of them to vote with it to get legislation passed. Labor looks set to have 26 Senators and the Greens nine Senators.
Rio Tinto shares are at the highest price since 2008 today at $102.26 as iron ore futures in China hit a two-year high on Friday night.
Meanwhile the S&P/ASX 200 is still firmly higher, now 99.6 points up which is a rise of 1.6 per cent.
The points have been added by substantial gains in the big four banks, which alone have added 96.8 points to the market today. Commonwealth Bank is trading 6.3 per cent higher at $77.38, Westpac is 8.3 per cent higher at $27.53, Australia and New Zealand Bank is 7.3 per cent higher at $27.73, and National Australia Bank is up 7.6 per cent at $25.75. The combined market capitalisation of these four banks is $24 billion higher today than it was on Friday when everyone was expecting a Labor victory.
How does today's market bounce compare with other post-election results? Analysis of historical data shows we're seeing the second-biggest post-election jump in 26 years. The big move demonstrates the size of Labor's proposed reform agenda.
In the previous nine elections dating back to 1993, the average market movement on the following Monday has been 0.22 per cent. Kevin Rudd's landslide victory in 2007 sparked the biggest gains with a 2.23 per cent gain in the market, with the mining stocks up sharply. The biggest fall was 2.19 per cent on the Monday following John Hewson's heartbreak in the 1993 election.