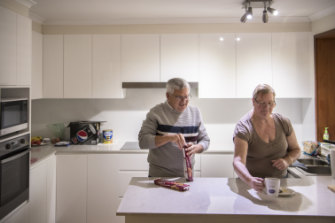 Since, they have offered emergency, respite and short-term care for babies and toddlers before the children are returned to their family or placed with permanent carers.
Mrs Walsh, 63, said no matter how long the child is with them, they cannot help but get attached.
"When they go, we cry," Mrs Walsh said. "It does make you feel good. We are doing it because we love it and we're helping children — those are the most important things."
Mr and Mrs Walsh hope to continue fostering children until they're 100-years-old because it «keeps you fit and young" and helps "keep a smile on the face", Mr Walsh said.
With National Family Week on until May 21, foster care agencies are hoping more carers will open their doors.
Data from the Australian Institute of Health and Welfare shows that there were about 45,756 children in out-of-home care nationwide in June 2018, of which about 17,387 lived in NSW.
"NSW has the lowest rate of children and young people being admitted into care in Australia,» Minister for Families, Communities and Disability Services Gareth Ward said. «There is always a need for foster carers to provide a safe and stable home for vulnerable children.
"National Families Week is a good time for people to think about how they can change a child's life for the better.
«It's also a time to stop and thank foster carers. They are true champions in every sense, and should be honoured for their enormous contribution."
Chief executive of Adopt Change Renee Carter said while a range of foster carers were needed, there is a high demand for those who can offer short-term care, and culturally and linguistically diverse care.
Loading
"Families come in all shapes and sizes. If someone has the capacity for someone else to join their family, it can make a world of difference," she said.
The rising cost of living and children staying at home longer means "people often don't have a lot of spare room" for a foster child, Barnardos Australia chief executive Deirdre Cheers said.
"There are no perfect families, children are all individual and different," she said. "We all know that children need families."
Ms Cheers said efforts were under way from the foster care sector to implement preventative measures to reduce the number of children in care.
Laura is a journalist for The Sydney Morning Herald.