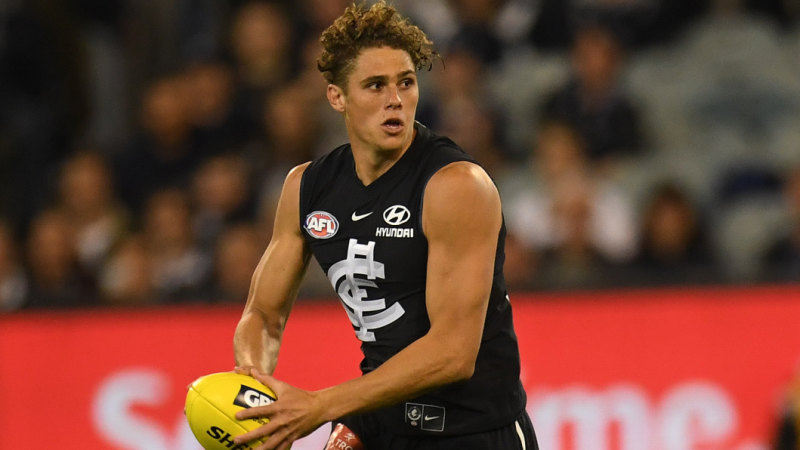 Mitch McGovern is also a strong marking target so the need to play Curnow deep to be a focal point is not as acute as it was.
Curnow is not being pushed out of the forward line, but the Blues have wondered whether with other players performing well up forward they could use the athletic Curnow in a damaging role up the field.
Loading
His form before getting injured this year has been below that of last year and the Blues have contemplated whether a move up the field could also help free him up.
Curnow has played further afield in the past but has been predominantly used forward in recent times.
The Curnow brothers, Charlie and Ed, are the two fittest players at the club, both powerful runners and endurance athletes, so there is confidence that Curnow would comfortably have the fitness to make the move to a wing or high half-forward running hard up the field and be a link player.
The club is mindful of how damaging players with similar physical characteristics such as Matthew Richardson and Nick Riewoldt were in playing on a wing for periods later in their careers and being hard-to-match-up-on link players.
Richardson, who was mindful football had shifted and the role had changed somewhat since he retired, said Curnow was a natural player and had the physical characteristics to be damaging in any position.
«What I would say is looking at the 6-6-6 zoning, if anything football has gone back to a bit more of a traditional wingman. You see games with guys playing out on a wing for the whole game — Lachie Hunter and [Bradley] Hill sat out there the whole match on the weekend, [Steele] Sidebottom is another, so there has been that shift,» Richardson said.
Loading
«If he has the tank to do it … but then you also need that tank to play forward getting up and down the ground now, so I am sure he would have the tank.
«When you are up forward and you have the No.1 key defender on you you do feel like you have no space to move so moving up the field gives you that bit more freedom and you get some early touches and get into the game.
«He is strong overhead. If he plays on a wing he gives an outlet for the defenders and he might get a mismatch.
«With the form of McKay and McGovern it might be a good time to try it with two guys marking the ball well.»