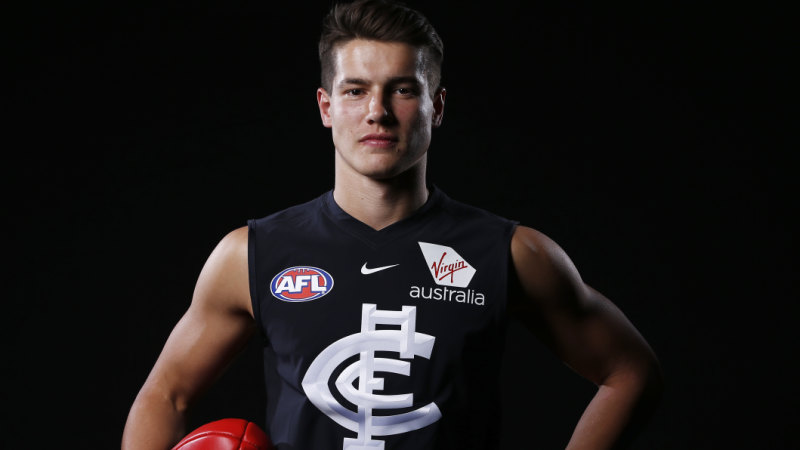 Stocker is in the mix to be one of several inclusions for the Blues, who have one win and five losses despite a lift in their performances to start 2019.
Loading
Having been drafted as an inside midfielder, Stocker has started his career at the club across the half-back line and was one of the standout performers in the Northern Blues' 10-goal loss to Werribee last weekend.
Charlie Curnow will play on Sunday barring any further injury mishaps, while inside midfielder Will Setterfield will return as coach Brendon Bolton looks for the right balance of onballers.
With Simpson and Newman set to miss the next fortnight, it opens up a position for Stocker and also potentially forgotten Blue Tom Williamson.
After playing 15 games in his debut season of 2017, Williamson has missed nearly 18 months with a back injury and has just completed his second VFL match in a row.
Blues assistant coach Dale Amos says both are a chance to come into the side.
«Stocker has built up a reasonable body of work as a defender, Williamson has played a couple of games, same with Harrison Macreadie and Angus Schumacher hasn't debuted yet, but has certainly been thereabouts and been a really strong contributor in the VFL," Amos told SEN radio.
«[Stocker] probably got drafted more as an inside midfielder, he's extremely strong over the footy, he's a fantastic kick on left and right foot,» Amos said. «We've given him the opportunity to play across half-back and I think it's been great for his growth.
«He's a very different athlete to Sam Walsh, he's much more power based. He doesn't have the same endurance as Sam does, but he's got a different skill set that allows him to play.
Loading
«He's just grown and gotten better and better across half-back. It's not a role he's done a lot of in the past, but he's embraced it and worked really hard to learn the role.»
In his just second game of the year, Kreuzer was among the best players on the ground, with 13 disposals, nine clearances and a goal.
«His first half was phenomenal. It was probably as good as I've seen him play in my four years here,» Amos said.
«His follow-up work and ability to win the ball, he clearly had an influence on the game, so the sooner we get him back out there the better.»
Kreuzer will be tested during the week, but remains in significant doubt to play on Sunday.
Sam McClure won the Clinton Grybas rising star award at the AFL media association awards in 2015.