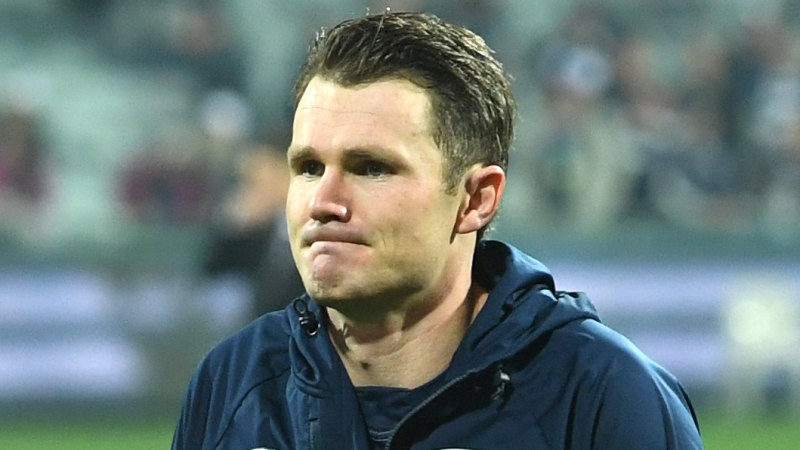 Loading
"So for those who saw him hobbling around on the crutches post-game, it's all part of the 'Danger Show' from what we can tell.
"He'll pull himself together.
"It seems if he's going to miss [any football] it will be on the minor side."
Not for the first time, outspoken Port Adelaide premiership player Kane Cornes claimed Dangerfield made too much of his injuries, with Cornes criticising Dangerfield across various media outlets over the weekend.
"He plays up the injuries, " Cornes said on Channel Nine.
"For one of the toughest players that I've ever seen when the ball is there, it's not a good look. It's frustrating and he needs to get it out of his game."
"All I know is, he's got a history of doing it that dates back to Adelaide, where I know for a fact the coach was frustrated, and his teammates were frustrated, and it's gone on to his time at Geelong."
Cornes referred to a 2017 game against Hawthorn in which Dangerfield starred with 5.6 despite an early injury scare.
"It was a fact that his teammates at Adelaide were frustrated and his coach was frustrated that he played for injuries and played up injuries.
"It's not the first time we've seen it. We saw it when he went off against Hawthorn.
"[Then] earlier this year, country game against Essendon, he limped off, looked like he was done for the day with a knee. Came straight back on minutes later."
However speaking on Channel Seven, Scott dismissed Cornes' assertion.
"Kane's only just got his pen licence in the media. He has gone down this path before," Scott said.
Cats defender Tom Stewart also defended his teammate.
"He was pretty sore," Stewart told Channel Nine.
"Obviously he was on crutches with the icepack on the ankle. I don't think anyone can really question Paddy's toughness. He's played a lot of games when he probably shouldn't have when he's been sore … he's as tough as they come."
Meanwhile, Scott said Gary Ablett was on track to play again next year, but reiterated that contract discussions with Ablett's manager Liam Pickering wouldn't occur until the end of the season.
Ablett, 35, has turned back the clock early this season, with his contract due to expire at the end of the campaign.
"Right at the moment it's hard to see any reason why he wouldn't keep going … physically, mentally he's in great shape."
Daniel is an Age sports reporter.