While the rest of the country was heading to the polling booths, a fleet of private jets had winged their way to Broome for the two day polo carnival, now in its 10th year, which is played on the sands of Cable Beach between high tides.
Perth billionaire Kerry Stokes' private jet was among the first to arrive at Broome's amusingly named «international airport» (there are no international services out of the quaint airport unless you count Christmas Island).
Stokes was hosting a mystery Chinese billionaire in Broome, where the media magnate has a holiday house. PS hears Stokes is keen to attract Chinese investment for a possible resort project in the Kimberley.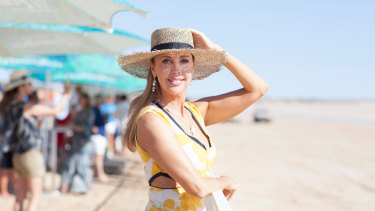 Shimmering under the sunshine, Catriona Rowntree wore around half a million dollars worth of Paspaley pearls and diamonds, declaring to PS: «When in Broome". Actor Andrew McFarlane was a special guest to honour the Royal Flying Doctors Service, one of the key beneficiaries of the event founded by pearling heiress Marilynne Paspaley.
«We really wanted to create an event to get people to Broome in May, when the weather is truly spectacular … a decade later, and it is definitely a fixture on the calender not just in the Kimberley but all of WA,» Paspaley told PS.
The event also attracts some of the world's most elite polo players, including Jack Archibald, Ru Barlow, Luke Reid and Richard Rawlings. They compete in four teams to play on a reduced polo arena carved out of the Cable Beach sand as the tide recedes.
The very glamorous 'Dinner Under The Stars' was held on Cable Beach last night where players and celebrity guests dined on a three-course meal prepared by Hamish Ingham of Banksii in Sydney.
While the Cable Beach Polo is a uniquely Broome event that didn't stop some of Perth's finest from adding a touch of glamour to the barefoot marquee, which proved treacherous for those ladies who opted to keep their espadrilles on.
Former AFL star turned Channel Nine Perth sports presenter Matthew Pavlich and his wife Lauren are regulars to Broome but first timers to the polo. "Broome is the Byron Bay of the West, but even more laid back. It's a perfect backdrop for polo," Pavlich said.
Emerging Perth stylist Peta Preston looked like she was heading to the Royal Enclosure at Ascot rather than a day in 35 degree heat on the beach.
"The fashion is fun, we like to get dressed up which probably isn't what you'd expect in Broome," she said, slinging her YSL purse over her shoulder as the ponies thundered past.
Pearling heir Chris Paspaley brought a posse of mate with him, the polo coinciding with his 39th birthday. High profile Sydney lawyer Dominique Robinson said she "blew" her four million frequent flyer points to get her Sydney crew to Broome and says she'll have 30 with her next year.
Andrew Hornery is a senior journalist and Private Sydney columnist for The Sydney Morning Herald.
Most Viewed in Entertainment
Loading