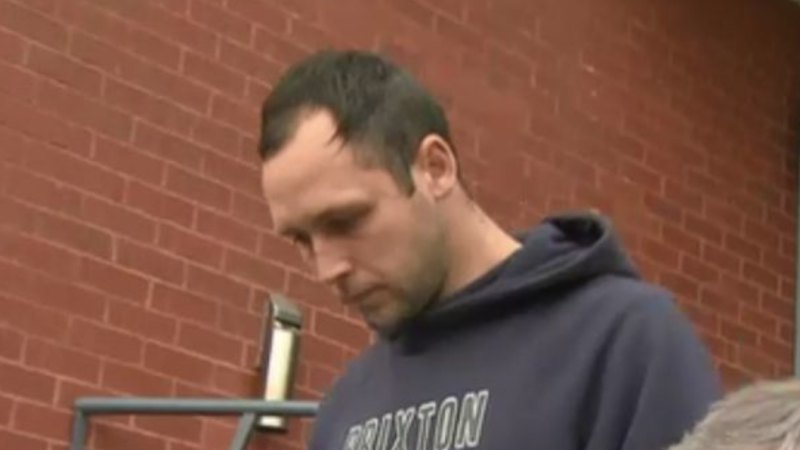 Wells had downed 10 schooners of beer and five bourbons over 3½ hours at The Grand Hotel, in the company of his brother Joel and an unknown third man, Frankston Magistrates Court heard.
Wells, 33, pleaded guilty to recklessly causing injury and affray this month, but a magistrate took exception when a lawyer described the contact as push and hip and shoulder. «It sounds a lot more than [that],» magistrate Timothy Gattuso told defence lawyer Pardeep Tiwana.
Mr Gattuso must decide between jailing Wells and putting him on a community corrections order given he has stayed off drugs and alcohol since.
Wells' plea hearing was on May 6 but can only now be reported, after a suppression order that protected his identity expired.
At the plea hearing Mr Tiwana said Wells «appears like a right thug» in the footage, but his client was «on edge» last year as hadn't undergone trauma counselling after a road crash months earlier.
Mr Tiwana said that on February 23 last year Wells and his brother were on a camping trip when Joel swerved his four-wheel-drive to avoid a wombat, and the vehicle careened down a hill and into a tree.
Wells suffered fractured ribs, Mr Tiwana said, and one of his dogs died. Joel was knocked unconscious.
The defence lawyer said that over the following months Wells self-medicated with cocaine, ice and binge drinking.
After Wells elbowed the stranger, he claimed to police his victim appeared drug affected and had «crazy eyes», and Wells thought he might be stabbed. The magistrate said there was no evidence to suggest the victim posed any danger.
«Random street violence is a matter of great concern and there appears to be absolutely no provocation in this matter: someone walking along, minding his own business and I'm not sure I accept what [Wells] says in his police interview … it seems fairly self serving,» Mr Gattuso said.
Two witnesses fled in fear the trio would target them, but doubled back to help the victim. The men told the court of constantly worrying about their safety, and their guilt at not immediately helping the victim. The victim didn't make a statement.
Mr Tiwana said Wells shut down his excavating business following the attack, after his website was hit by thousands of angry and threatening comments. He also received threatening phone calls.
Wells hoped to re-brand the business. His lawyer said the punishment Wells had experienced outside the court system, combined with the counselling he had completed for alcohol, drugs and anger problems warranted a community order, not a prison sentence.
But police prosecutor Andrew Osmond said Wells' remorse was limited, and a stint in prison would send a message condemning street violence. The victim was lucky not to have suffered more serious injuries when he hit the footpath.
«It's more good luck than good management that we're not dealing with a different charge,» Acting Sergeant Osmond said.
Wells will be sentenced on June 17. He is also due to return to court on Wednesday on separate charges of assaulting a man in Somerville, before the Frankston attack. He plans to contest those charges.
Adam Cooper joined The Age in 2011 after a decade with AAP, the country's news service. Email or tweet Adam with your news tips.