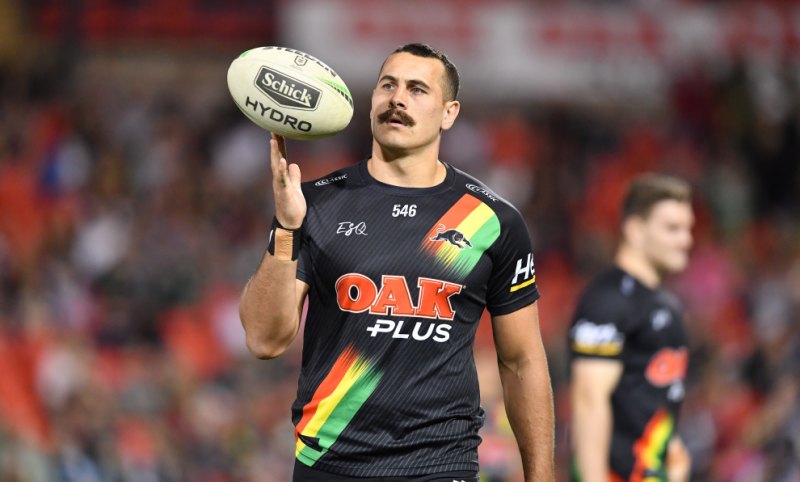 «My form has been rocks and diamonds, I won't sugarcoat it,» said Campbell-Gillard, who will try to help Penrith spring a Wagga upset over Canberra on Saturday.
«It's been frustrating for myself. You set a standard with how you want to play. I can't make any excuses.
Loading
«I thought last weekend there were some positive signs, you get your mojo back and can hold your head high.
«When you're winning it helps, but when you're losing, it can be a pain in the arse. I just need to back my ability.
«I've broken my jaw twice, so I've definitely got a glass jaw at the moment. It's not a confidence thing with it. If it plays on the back of your mind you can't run the ball or can't even play. If you cop a knock to it, you cop a knock. You just have to move on.»
Geyer, however, was not so sure about Campbell-Gillard's jaw, and felt he was almost playing within himself.
«Only he knows what the effects are of having back-to-back broken jaws,» Geyer told the Herald.
«There must be a lot of mental demons going on inside your melon every time you run the ball, only because you know how painful it is.
«He must be deep down thinking the jaw isn't too strong and there's a bit of self-preservation there, and it can that hold him back 10 per cent.
«I thought he had a great impact against Newcastle, so he's shown this year he can do it.
«He just needs to show 'Freddy' [Blues coach Brad Fittler] he's over the mental demons with the broken jaw.
«You've got Vaughan and Klemmer as your starting front-rowers, then maybe Payne Haas, McLean, Tevita Pangai jnr and Matt Lodge. He'll have to fight for that spot. NSW in a really good position in terms of forwards.
»If I picked the team tomorrow, I'd have Payne Hass coming off bench. He's so big and strong and looks like he can listen to instructions well.»
He must be deep down thinking the jaw isn't too strong and there's a bit of self-preservation there.

Mark Geyer
Campbell-Gillard knows a solid month against Canberra, the Wests Tigers, Warriors and Parramatta will help the Panthers, as well as his own Blues reboot.
Campbell-Gillard played in the opening Origin game last year before he broke his jaw and missed the remainder of the series. He played his way back into form and even jagged a spot on the end-of-season Kangaroos tour.
«It would be nice to play again, but my performances haven't been where I want them to be,» Campbell-Gillard said.
«I've got three or four weeks so I need to knuckle down and see what happens. You don't want to be a 'FOG'. A few of the boys have brought it up. Peter Wallace is one. It's more of a joke we have. But I am driven to play more [Origin] games.»
Christian covers rugby league for The Sydney Morning Herald.