According to the Australian Electoral Commission, Mr Dickson remains eligible to be elected on the One Nation ticket, regardless of his status — or lack thereof — in the party.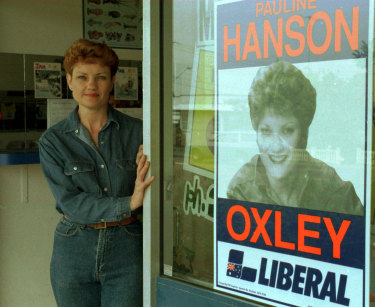 "All candidates formally declared by the AEC last week have been printed on ballot papers for the election with the name of the party who endorsed their nomination at the time of nomination," a spokesman said.
"They are eligible to be elected. Whether they take their seat (if elected) and what banner they sit under is not a matter for the AEC."
The AEC has no plans to reprint the Senate ballot paper.
One Nation has drawn the second column from the left on the Senate ballot paper, making it relatively easy to find on the notoriously large Senate ticket.
However Professor Ian McAllister, an expert in Australian voting trends from Australian National University's school of politics, said it was unlikely One Nation could win enough votes to win two senate quotas in Queensland to have Mr Dickson elected.
"I would be very surprised if that happened," Professor McAllister said.
"There are very few precedents of this and a lot of it depends on personalities and party manoeuvring."
Professor McAllister said there were some examples where people died after being chosen as candidates and still received votes.
Tasmanian Labor senator Lisa Singh won a senate seat from sixth spot in 2016, after a strong grassroots local campaign when 20,000 locals chose her, rather than follow the Labor ticket.
"So it does happen, but Tasmania has a small ballot paper with fewer names on it," Professor McAllister said.
However Professor McAllister doubted this would happen to One Nation and Mr Dickson.
"My impression was that he didn't have much of a chance of getting a quota anyway in the Senate," he said.
Professor McAllister said even the party's lead senator candidate Malcolm Roberts would struggle because it was a half-Senate election, which demands candidates need to attract about 13 per cent of the Senate vote to win a Senate seat.
The election of controversial independent Queensland Senator Fraser Anning to One Nation to replace Mr Roberts — before resigning to become an independent senator — shows there is precedent for the very slight chance Mr Dickson could become an independent Queensland senator.
Professor McAllister said more than 90 per cent of Senate voters voted by ticking the party, rather than searching for individual senate candidates, on the bottom half of the senate paper.
Professor McAllister, who is involved in the long-term Australian Election Study voting trends research project said the most noticeable ongoing issue in Australia's democracy was a lack of trust in politicians.
The study of 1000 voters shows the percentage of voters trusting politicians slipping from 51 per cent in 1969, to only 28 per cent in 2016. In 2016 74 per cent of the voters thought politicians thought mostly of themselves.
Professor McAllister predicted a major increase in the number of independent and smaller party candidates elected to the senate as more voters choose to elect one party to the House of Representatives and another party to the Senate.
"I think there will be a very large minor party and independent representation in the Senate," he predicted.
"I think they will soak up a lot of the alienation that voters have with the major political parties."
Professor McAllister said this trend of "split-ticket" voting will increase dramatically at the 2019 election.
"I think it was about 22 per cent recently. I think it will be dramatically higher this time."
The Australian Election Study results showed 22 per cent of people voted differently in the House of Representatives, than they did in the Senate in 2013. That decreased slightly to 19 per cent in 2016.
Tony Moore is a senior reporter at the Brisbane Times