Clark, who provided one of the few highlights of the Waratahs' otherwise regrettable 23-15 loss to the Sharks with a booming tackle on winger Makazole Mapimpi in the first half, rejected suggestions the NSW attack was a non-event in the absence of the suspended Folau and Naiyarovoro, who is playing for Gloucester in the UK Premiership this season. The Fijian powerhouse scored 15 tries to top the regular season stats last year.
«I don't think we're feeling any more pressure in our attack,» Clark said. «We're really confident in our systems, we know if we do it well we can score points to win games, that's the biggest thing for us. Sticking to our systems, making sure we're all executing.
«There were a lot of errors out there [on Saturday], that's not the way we want to play and obviously it hurts our attack.»
Clark's hit on Mapimpi — well-timed, legal and deveastatingly effective — drew a massive cheer from the crowd at Bankwest Stadium, who could not have foreseen the second-half slide awaiting them on the other side of the break.
Clark was reluctant to talk up his efforts but said he was happy not to have missed his mark.
«As a winger you're put in a position sometimes when you snap on balls and have to make tough reads,» he said. «I'm lucky that one came off, otherwise our defensive coach might not have been too happy with me, they might have gone the length (and scored).
«It's nice to put yourself in a position to put shots on and do things for the team like that. That was one positive to take out of the game.»
Head coach Daryl Gibson spoke plainly about his side's try-scoring troubles after the game, saying there was no quick fix for an average figure per game of 2.8 tries, well down on 3.6 tries at the same point last year.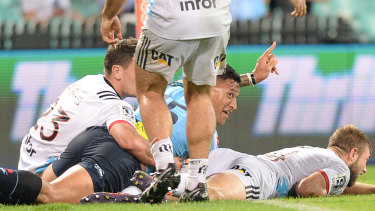 «A lot of that try-scoring came out of two blokes, we acknowledge that,» he said. «But we're certainly putting ourselves in a position to score tries and we're not taking them as well as what we could.
«We had some nice field position early in that game, two missed lineouts, overthrown at the back. We're not capitalising on those critical moments and not executing that stuff. When' you're short of try-scoring that's going to hurt you.»
The Waratahs arrived in South Africa on Monday ahead of their clash with the Bulls in Pretoria, the first of two games on the republic's famed highveld. Clark said the team would benefit from time away together.
«Most importantly we're going to get tight as a group and really attack these next two games,» he said. «It's a great place to go on tour, spend a lot of time with each other. It's a great opportunity for us to turn our season and fire home. All the guys are really excited.»
Georgina Robinson is the chief rugby reporter for The Sydney Morning Herald.