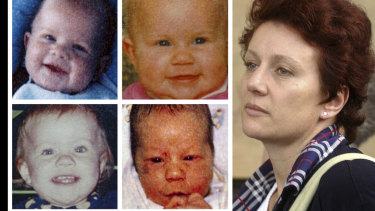 She told the hearing, before former District Court chief judge Reginald Blanch, QC, that she remembered throwing only one away.
Chris Maxwell, QC, acting for the Director of Public Prosecutions, put to Folbigg, «You got rid of the diaries because there was significantly incriminating material in those diaries.» She denied this.
In one 1997 entry in which Folbigg reflected on the death of her first daughter, Sarah, she said she was more patient with her two-month-old daughter, Laura, than «snapping my cog» with Sarah.
Under cross-examination, Folbigg said that meant she was showing a «slight frustration», but Mr Maxwell put to her the expressions were different.
Loading
«I suggest to you that you used the term 'snapping [your] cog' as a mitigating term for something that you had done to Sarah in order to stop her living. What do you say to that?» Mr Maxwell said.
Folbigg replied, «No I wouldn't agree at all.»
«You say that you didn't smother Sarah, you didn't kill her?» Mr Maxwell asked.
«Absolutely,» Folbigg said.
«I miss all my children all the time.»
Asked if the entry, in which she said Laura didn't «push my button» as much as Sarah did, was heartless, Folbigg said, «No, it's simply a diary where I'm reflecting and I'm comparing. Sarah was a child that I'd had the longest at the time. She was the only child I could compare Laura to in any way whatsoever.»
Folbigg has launched numerous unsuccessful appeals against her convictions and maintains all children died of natural causes.
The scope of Folbigg's evidence has been limited to the diary entries, possession of the diaries and her disposal of the diaries.
In her opening address, counsel assisting the inquiry, Gail Furness read excerpts of Folbigg's diary entries, including on November 9, 1997: «With Sarah all I wanted was her to shut up. And one day she did.»
On January 28, 1998, Folbigg wrote of Laura: «I've done it. I lost it with her. I yelled at her so angrily that it scared her, she hasn't stopped crying. Got so bad I nearly dropped her on the floor & left her … I feel like the worst mother on this earth. Scared that she'll leave me know [sic]. Like Sarah did.»
The inquiry has previously heard evidence about genetics, forensic pathology and Sudden Infant Death Syndrome.
The scope of the inquiry includes new research or advances in medical science relevant to the causes of death of each child. It followed the release of academic Emma Cunliffe's book, Murder, Medicine and Motherhood, which raised serious questions about the Folbigg convictions.
More to come.
Angus Thompson is a court reporter for the Sydney Morning Herald.