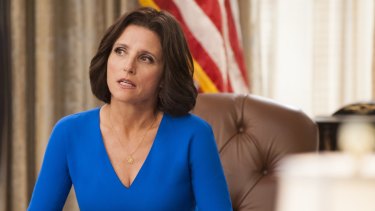 «In many ways I think it's why the show has lasted as long as it has, because it kind of invites everyone to the party. And I think in a way it is more apt than it ever has been, given the current insanity that we're all living in.»
The series, created by Armando Iannucci for HBO off the back of a more direct adaptation of his British political comedy The Thick of It, is set in the office of Selina Meyer, a fictional vice-president and later, president, of the United States.
The show's sixth season focused on Meyer's post-White House life (she was ousted after losing the election in season five) and building her Presidential Library; the series concluded with confirmation she intended to run once more for the White House, against former staffer-turned-congressman Jonah Ryan (Timothy Simons).
For the 58-year-old, New York-born former star of Saturday Night Live and Seinfeld, all jokes aside, politics still matters.
«I care very much about politics,» Louis-Dreyfus says. «I am a patriot and I'm very unhappy with our current political situation. This has, by the way, nothing to do with Veep. This is me talking right now.»
Of the upcoming 2020 presidential election she has no insight – yet. «I have no idea who I'm going to support in 2020, except to say that it will be a Democrat and that's for goddamn sure,» she says.
The fine line between real-world politics and the fictional universe of Veep is a nexus that must be managed on a case-by-case basis, Louis-Dreyfus says.
There are many moments in the real political world too absurd to be replicated in a political satire, she says.
«But bear in mind that I play a character who was, in office, a female president of the United States. That boundary hasn't been pushed yet [in the real world].
«And we sort of, in lots of ways, kind of touch on things that then sort of happened or are happening purely by coincidence,» she adds. «That's been our experience all along.»
Later, the show's executive producer David Mandel concurs with a similar observation: «Sometimes it feels like they're another show and that they're kind of stealing from us,» he says.
The show's seventh season of just seven episodes will be its last. To that end, the question of resolution is a legitimate one.
As much as the show is a television comedy, which by its nature attempts to reset to first position for each new episode, there is now a deep emotional investment in Selina Meyer from the show's audience and there is a sense that they want, as much as politics will allow, a happy ending.
Louis-Dreyfus chooses her words carefully. «Selina is truer to herself, as true to herself as she can possibly be, by the time this season ends,» she says. «I'll leave it for you to determine whether or not that's a good thing.
«But I'm not sure that evolution is necessarily her game. And I would also add that I think that where our show ends up ultimately is a place I'm very happy about and I think will surprise the audience too.»
From a personal standpoint, however, finishing the series has been deeply bittersweet, she says.
«I was so overcome with joy and grief as this show ended and it really was very surprising to me,» Louis-Dreyfus says. «I'm an emotional person anyway but I will say that I was really caught by surprise and I think that's because this show, frankly, has been my baby for eight years now.
«I feel fiercely protective of and proud of the show. We've been through a lot as a group with illness and losing people and it's been an enormous, huge journey but ultimately one that has been extremely powerful for us, just personally to be a part of something this gratifying on a creative level.
«It's not lost on me that that is not something that comes along with frequency,» Louis-Dreyfus adds. «So saying goodbye to it was a very hard thing to do even though it was our decision to do it. Ultimately it was a very sad thing. I don't know how else to say it.»
The final season of Veep premieres on Fox Showcase on Tuesday, April 2.
Michael Idato is entertainment editor-at-large of The Sydney Morning Herald and The Age.
Most Viewed in Entertainment
Loading