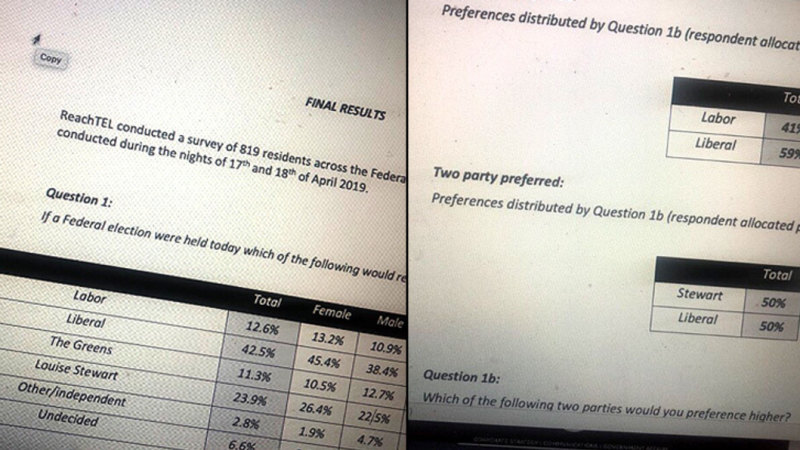 The fake polling was widley reported on Saturday as showing Ms Stewart could snatch Curtin from Liberal candidate Celia Hammond, but it was revealed as fabricated when the research company that was said to have produced it denied polling the seat.
Although Ms Stewart said neither she nor Alex Turnbull would name the MP responsible, she claimed Senator Cormann had «questions to answer» over the fake polling.
«If it is indeed the case that another political party has sought to sabotage my campaign in this way it would be a damning indictment on them,» she said.
Mr Turnbull denied having anything to do with the fabricated polling.
Senator Cormann told Sky News' Peta Credlin the suggestion he or the Liberals were behind the fake polling was «just a crazy suggestion».
«The purpose of placing that particular poll on the front page of The West Australian was to create the false impression that the independent candidate was competitive in Curtin and to lift her name ID and this was clearly not something that was in our interests,» he said.
Loading
In a written statement Senator Cormann said: «The West and their readers across WA have been deceived».
«If the independent who initially claimed to have commissioned the poll now believes she has also been deceived, I strongly encourage her to publicly release all the relevant material in her possession, including any emails she has received providing this supposed poll to her,» he said.
«If she or anybody else has any evidence that an offence may have been committed they should refer all information they hold to the police.
«The people of Western Australia deserve to know who has sought to deceive them.»
The fake polling, which WAtoday declined to report when it was circulated last week, was used as evidence Ms Stewart was gaining momentum in the seat and showed her polling 23.9 per cent of the primary vote.
But campaign insiders from the major parties were quick to discount the possibility of an upset.
Curtin is one of the safest Liberal seats in the country, but the personal vote of high profile former foreign minister Julie Bishop is said to have bolstered the party's results in recent elections.
Labor had preselected former Rudd Government minister Melissa Parke to run in the seat, but she quit the race after she made controversial comments to pro-Palestinian activists which risked derailing Labor campaigns in Jewish areas in Melbourne.
Nathan is WAtoday's political reporter.