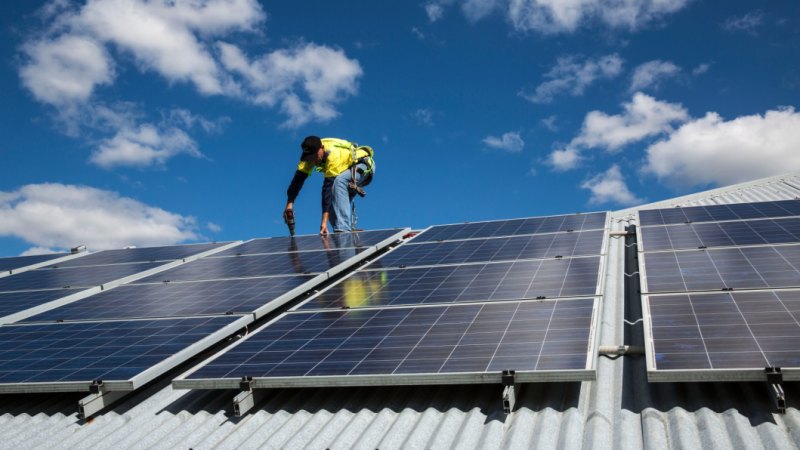 The scheme will begin with two or three trial projects in different regions but is intended to be scaled up to the point where the «solar schools» have a combined capacity equivalent to one fifth of the Liddell coal-fired power station in NSW.
«The full rollout will see school VPPs established in every jurisdiction, ultimately benefiting up to 4,000 schools, supporting up to 364 megawatts of VPP capacity, and cutting over 390,000 tonnes of pollution a year,» Labor says.
The Liddell power station has a capacity of 1680 megawatts and is due to close in 2022.
The election promise is worded carefully to avoid a hard commitment on when all the money will be committed, saying a Labor government will benefit «up to 4,000 schools» with «up to $1 billion in finance» from the government corporation.
«Schools are largely vacant for more than 150 days per year. Often demand for energy is highest when kids are not at school,» the Labor policy plan says.
«This makes schools perfect locations for solar and battery powered VPPs, to support grid reliability and lower power prices for Australian families and business.»
The idea is a significant commitment from the CEFC, which until now has had a mandate to generate a commercial return from loans.
Labor said it was «not relevant» to ask if the proposal would require a change in the mandate because the CEFC would be able to make a commercial return from the projects.
Labor noted that the CEFC had to make its benchmark rate of return across its portfolio of investments, which is different from the required rate of return for the private finance industry.
«Financing will be provided through concessional loans, available for the purchase of both solar panels and battery systems, either by schools or VPP project developers,» Labor said.
The mammoth outlay will use government debt under Labor's pledge last November to add $10 billion to the CEFC to expand its investments.
The increase in commonwealth debt will be offset by the value of the solar school investments, which means net debt would not change unless some of the investments failed.
Aware of controversy over the home insulation scheme developed by the Rudd government, Labor said all installations in the schools program would be undertaken by certified installers and in compliance with the National Construction Code and the Clean Energy Council installation guide.
David Crowe is Chief Political Correspondent of the Sydney Morning Herald and The Age.