Mr McGowan, who appeared in Labor's advertising throughout the campaign, said Mr Shorten should have focused on jobs and the economy.
«Clearly, federal Labor had an overly ambitious policy agenda and allowed themselves to be attacked,» he said.
«They put it out there years in advance and it was targeted very successfully by the Liberal Party.
«I think what federal Labor did was they painted a huge target on themselves. Their policies were way too grandiose, way too many, they didn't have a core theme to them.
«As a party we need to appeal to everybody and that includes people in business and in small business.»
Mr McGowan acknowledged it was a sad day for Labor and for Bill Shorten, but thanked people who ran and worked for the party across the state.
«In particular, can I acknowledge one candidate, Hannah Beazley,» he said.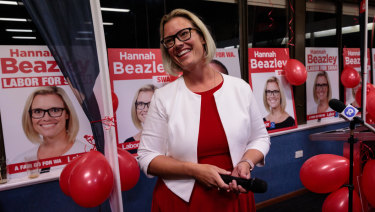 «I have a lot of time for Hannah. I look forward to Hannah one day, hopefully not too far away, being a member of the state or federal parliament and I will support her to the hilt in that regard.»
Ms Beazley is the daughter of Mr McGowan's friend and political mentor Kim Beazley, who the Premier appointed WA Governor in 2018.
She failed to defeat Swan MP Steve Irons despite Labor reportedly spending $500,000 trying to win the seat.
Saturday's election loss was the former political staffer's third attempt at a parliamentary career, having lost an election against state opposition leader Mike Nahan in Riverton in 2013 and failing to secure an upper house seat in Mr McGowan's landslide 2017 election win.
Mr McGowan said he did his best to help Labor's campaign in Western Australia.
«I was asked to help and I did my best to help them,» he said.
«I like Bill and I respect his effort and I respect the fact he did a lot of policies and a lot of ideas on behalf of Western Australia and I wanted to support them, but obviously it didn't work.»
The Premier said his high profile campaign against Mr Morrison would not affect his relationship with the Federal Government.
«Obviously in an election campaign you have your differences, but I never attacked him personally at all,» he said.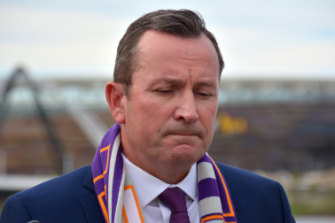 Dr Nahan said the swing to the Liberals in WA showed Western Australians recognised which party was responsible for restoring a fair share of GST revenue.
«Scott Morrison had a strong team of dedicated and talented MPs in WA who campaigned on their track record of delivering for their constituents,» he said.
«Our federal team fronted a strong campaign that promised a Government that would encourage endeavour, protect people's assets and build the economy.
«The Liberal vote in WA was the strongest in the nation; a clear message that Western Australians will not engage with the policies of envy and division that both Bill Shorten and Mark McGowan were spruiking.»
Late on Sunday, the Australian Electoral Commission had the Liberals on 55.15 per cent of the two-party preferred vote.
Labor had suffered a 1.9 per cent swing against it on primary votes, securing just 30.58 per cent of first preference votes.
Nathan is WAtoday's political reporter.