The Frankston line isn't having its best morning.
The 6.48am service to the city has just been cancelled, as well as the 6.53am service out of the city heading towards Frankston.
Metro Trains say there are delays up to 10 minutes due to an equipment fault near Carrum. There are also 10 minute delays on the Craigieburn line.
We'll keep you updated on the morning commute. Feel free to get in touch via email or Twitter if you see anything out there this morning.
Winter may be just one month away, but Melbourne enjoyed an unseasonally warm night.
The lowest temperature was 18.7 degrees and we generally hovered around 19-20 degrees through the night. Today is expected to only rise to a maximum of 21, with showers around this morning and tonight in Melbourne.
And there'll be some happy farmers today: heavy rainfall is forecast for central and north-eastern areas of Victoria, with up to 50mm expected in the central ranges from Ballarat to Mt Bulla according to the Bureau of Metereology.
Around 65% of readers voted to say that Monday's leaders debate between Scott Morrison and Bill Shorten was not worth watching. It was just the 19th most-watched show on Monday night, although it did draw more viewers than the 2016 debate on Sky News.
The next debate is being hosted by Sky News in Brisbane on Friday. Will you be watching? With early voting numbers at record highs, how important really are the debates to you?
Let us know on our Facebook page below (and please refresh the embed if it isn't showing up):
Here's today's news headlines from Victoria and beyond:
Here's today's front page, with almost a full house of exclusive stories.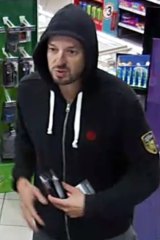 Police are seeking public help to find a man who embarked on a convenience store rampage after breaking into a car in South Yarra last month.
A man allegedly broke into the car on Hawksburn Road, South Yarra on the night of April 6.
He took a bank card from the victim's wallet to buy cigarettes, snacks and petrol (to fill up the stolen car) across six convenience store transactions in nearby St Kilda and Elsternwick.
The man said to be of Caucasian appearnace, aged in his 30s with a medium build and unshaven face. He was wearing a black hoodie, grey pants and grey/white runners.
They've released a photo of the man and anyone with information or who may recognise him is urged to contact Crime Stoppers on 1800 333 000.
Morning Melbourne, how are we?
New day, new month. It's the first day of May, which means we're one third through 2019 already. Sheesh.
It's a mild morning, currently 19 degrees with a top of 21 today. There's showers about this morning, although areas west of Melbourne will cop the brunt of it. Showers are expected to return in Melbourne tonight.
There's been one cancellation on both the Craigieburn and Werribee lines this morning, and some slight delays on the Frankston line. Roads look clear.
We'll keep you updated if and when that changes. News headlines coming up.