«At this point, I cannot reconcile the important responsibilities I have to my family with the additional responsibilities of the Labor leadership. I know some people will be disappointed with this decision,» Ms Plibersek said.
Ms Plibersek said she had «support, from across the party, to be elected leader» and was «overwhelmed by the confidence my colleagues, the union movement, and Labor party members have placed in me».
The announcement comes only hours after former prime minister Julia Gillard embraced Ms Plibersek as a future Labor leader.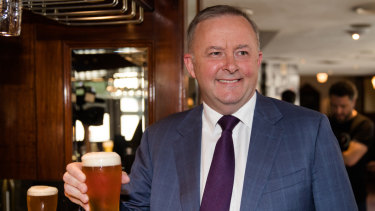 But it became clear on Monday that the party's left faction in NSW was coalescing behind Mr Albanese for the leadership.
Labor frontbencher Stephen Jones, who holds the NSW seat of Whitlam, said the party needed a leader who could communicate with regional voters alienated by Labor's platform.
Loading
«We need to look at how we are talking to regional Australia. It's not just Queensland, it's northern NSW, northern Tasmania and Western Australia. we failed to pick up those regional areas,» Mr Jones told The Sydney Morning Herald and The Age on Monday morning.
«Anthony [Albanese] will enjoy significant support. I think Anthony will be more effective in talking to regional Australians. I'm not saying Tanya can't, I just think he'll be more effective.»
Others in the party's left faction felt Ms Plibersek was too close to the policies of the failed campaign, while Mr Albanese was safely isolated from them in his infrastructure portfolio.
«That's just the price you pay for being the deputy of a failed campaign,» one source said.
Possible leadership contenders from the party's right faction who had not ruled themselves out on Monday afternoon included shadow treasurer Chris Bowen, finance spokesman Jim Chalmers and defence spokesman Richard Marles.
More to come
Michael Koziol is a political correspondent for The Sydney Morning Herald and The Age.
Judith Ireland is a political reporter for the Sydney Morning Herald and The Age, based at Parliament House