Images showing mountains of the toxic waste and marine life either entangled or dead as a result of coming in contact with plastic products have now tragically become commonplace.
But as the world continues to produce about 300 million tons of plastic each year, new innovative repurposing campaigns are left to pick up the pieces and find alternative uses for the consequential waste.
We preach to buy quality over quantity and for consumers to educate themselves … so garments don't end up in a dank hole on our earth.

Ela & Jackson director Keely Jackson
Elysian Swim founder Jessica Jane developed the sustainable reversible swimwear brand two years ago and was the first Australian to use recycled polyester fibre from Italy.
Ms Jane said fashion was the second "dirtiest industry in the world" so it was vital her label made a positive impact and reflected her love for the ocean and everything living thing in it.
"Thousands of tons of plastic fishing nets are discarded thoughtlessly into the ocean each year," she said.
"Some of this waste is pulled out of the ocean by reclaiming projects all around the world.
"This waste is then thoughtfully regenerated into a high performance, quality virgin material used by Elysian Swim to offer fashion with a conscience."
Once consumers no longer wear their Elysian swimwear or want to dispose of it, Ms Jane encourages customers to send them back so they can be broken down and reprocessed.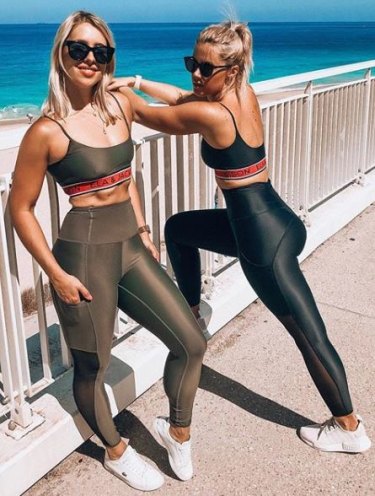 Ela & Jackson founders Ela Duys and Keely Jackson launched their 100 per cent sustainable infinitely recyclable activewear this year after noticing how toxic and polluted oceans were becoming while taking photos of their swimwear line along the coast.
Ms Jackson said it was their responsibility as young designers to look at ways they could make an impact in an industry renowned for not being eco-friendly.
"We decided we could do better with what we were creating and instead of just focusing on minimising our impact we investigated ways to have a positive impact too," she said.
"All our activewear is made from the infinitely recycled nylon made out of plastic waste sourced from the ocean and landfill, currently the Mediteranean is being cleaned up.
"We preach to buy quality over quantity and for consumers to educate themselves on how their clothes are made and what impact it has on the environment as well as what happens to it after they're done with it so it doesn't end up in a dank hole on our earth."
For every 10,000 tons of material regenerated, 70,000 barrels of crude oil is saved due to avoiding extraction, 57,000 tons of CO2 emissions is avoided, is reducing the global warming impact of nylon by up to 80 per cent.
Lauren is a casual reporter and producer for WAtoday.