She said the cameras would make it easier for police to quickly access security footage captured at train stations.
"We all have the right to be and feel safe at train stations and on public transport – these upgrades will provide clearer vision to deter potential offenders, ultimately creating a safer train network for everyone," Ms Horne said.
Public Transport Victoria chief executive Jeroen Weimar told reporters most of the cameras could be accessed from central control rooms and data would be recorded digitally, making it easier for police to access the footage.
He said the new cameras were in addition to the protective services officers based at every metropolitan station after 6pm and 100 roving officers.
"We have seen as a result our passenger satisfaction with safety and security has improved over the last few years," he said.
Asked about the failing state escalators at Southern Cross Station, Ms Horne said she was "extremely disappointed" that the station's operators had taken so long to rectify the faults.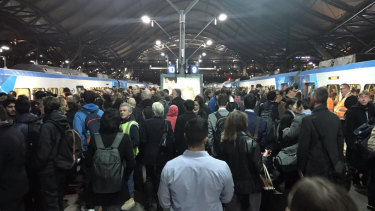 "Our passengers deserve better," she said.
The broken down escalators have contributed to major overcrowding at Southern Cross Station where passenger growth is surging.
Ms Horne said she understood the station operator Civic Nexus was now working with Public Transport Victoria to fix the problem.
Mr Weimar said he was disappointed to still be working on the faults at Southern Cross. He said one of the broken escalators would be repaired on Monday and another within a fortnight.
"We are having a full and frank commercial conversation with Civic Nexus today to ensure all their attention is focused on this and we'll apply the contractual leverage you'd expect us to apply."
Benjamin is a state political reporter