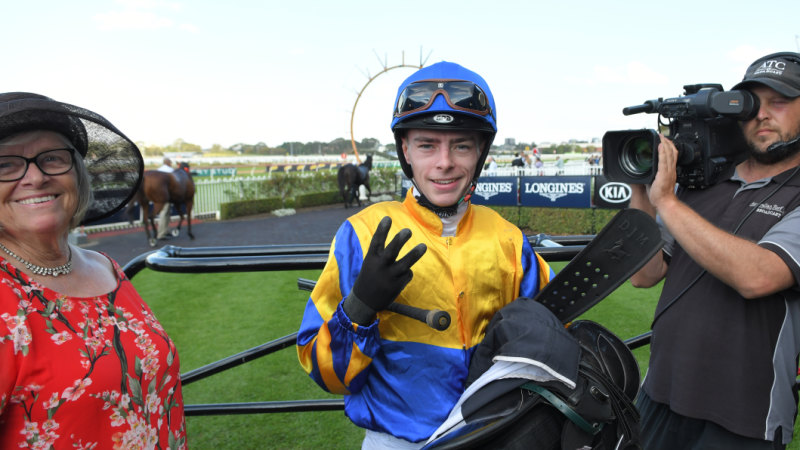 "You are better off coming here thinking 'that will win' instead of thinking it will run well, even if it's 20-1. That's the way I've always been.»
Dolan come to Australia three years ago with dream of being a jockey and has worked his way from the country to the provincials and has become a sought-after claimer in town. He chalked up his 100th win on Thursday since arriving and has become more polished, which is showing through every week.
He had to earn his fee on Strome. After driving through at the top of the straight to run past favourite Reelem In Ruby, the quirky galloper thought the job was done when he got more than a length clear. He had to withstand a late rally from the favourite and held a nose margin at the post.
«She is the laziest horse ever,» Dolan said. «Walking into the mounting yard, it felt like the M5 tunnel behind her lining up. You've just got to really wake her up.
«I got to the front too early and all she wanted to do was switch off, and really in the end she was a bit lucky because I thought we had got beaten."
Tommy Berry had excuses on Reelem In Ruby, which got in a bumping duel with stablemate Jen Rules on the turn and lost her balance and a length or two.
"She just got the wind knocked out of her on the corner. I just had to let her balance up again to help with her momentum that took another 100m," Berry said. "Once she got balanced she produced those sections we know she can, but it was just too late."
After landing Elm Court in the Highway for Canberra trainer Matthew Dale, Dolan won for the premier stable of Chris Waller when he swooped down the centre to win on Star Of The Seas.
The Ocean Park four-year-old is yet to miss a place in 11 starts, and in this preparation, which dates back to February, he has won on three occasions.
«He is just so honest and all gives his all,» Waller's racing manager Charlie Duckworth said. «He is till in the Stradbroke and Chris and the owner will discuss that in the next couple of days.»