However, some diligent rehabilitation work and a reasonably speedy recovery has put Robertson in the frame to potentially come off the bench this Saturday in a blue jersey.
The plan was for Robertson to be eased back through club rugby with Sydney University but a rib injury to Rory O'Connor prompted the Waratahs to take him on their two-week tour of South Africa.
He says it won't be a problem and believes he has done enough work at training if called upon for a potentially season-defining match.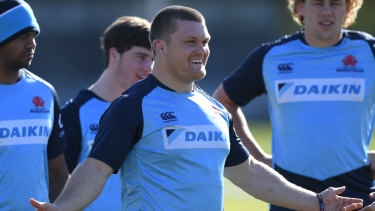 "I wouldn't be over here if I wasn't ready to play and I'm pretty keen to get on the field," Robertson said. "The knee is good to go, it's just whether the coaches pick me or not. I'm still waiting to find out.
"I've just got to get back playing well for the Waratahs and hopefully get rewarded if I'm in good form with a World Cup later in the year."
Loading
Robertson, who has studied medicine at Sydney University, knew he was in trouble when he hit the deck but didn't know for sure how long he would be sidelined for.
"It was a really innocuous thing at training," Robertson said. "I stepped off my right foot, which you normally don't do as a front-rower. My knee just caved in which is what happens when you have an ACL injury. There is a World Cup later this year so that was a big goal for me but I didn't really know how long things were going to take.
"Rehab is a similar sort of thing every day which is not ideal … but there are people out there doing it a lot tougher than I am in terms of injuries and other jobs. In terms of perspective, it's not the worst thing in the world but I'd love to get out there with the boys and do my job and start playing some footy which would be great."
The Waratahs need to get their season back on track with victory over the Bulls after a disappointing 23-15 loss to the Sharks in Sydney.
"They've had quite a successful scrum this year, the Bulls, so we're definitely going to be wary of them,» Robertson said. «We just want to look for consistency."
Tom Decent is a journalist with The Sydney Morning Herald