The final ground searches were suspended on Monday, with police making a final appeal for anyone who saw, spoke to or took pictures of the missing man to come forward.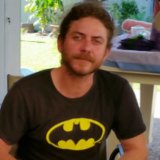 Mr Smith was described as about 175 centimetres tall with a solid build, fair complexion, blue eyes, a beard and long, dark brown hair usually tied in a ponytail.
The Rabbits Eat Lettuce music festival was held at Cherrabah Resort in Elbow Valley from Thursday through to Monday.
Festival organisers posted an appeal on Facebook for information regarding Mr Smith.
«Police are seeking information from anyone who may have associated with Bradley at the Music festival on or after Saturday evening, and anyone who may have given him a lift from the festival,» it read.
«Anyone who has information is requested to contact Warwick Police Station on 07 4660 4444.»
Loading
Dassarn Tarbutt, 24, and Ebony Greening, 22, from Maleny and Nambour respectively, were found dead in a tent at the festival about 9.30am on Monday.
The causes of death were undetermined but police were treating them as suspected overdoses.