It was brought to Cairns by Janelle Downer and her sewing group the Reef Sisters, who run the Cairns section of the Australian Sewing Guild. Its members pride themselves on their sense of service to the community and creative ability.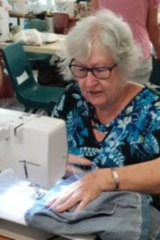 Kim Eaton from Cairns Border Force spoke with the women this week and enjoyed the camaraderie they displayed as they sewed, chatted and had fun together.
"The ladies all loved the idea of the program and were keen to sew items from our collection of recycled police and Australian Border Force uniforms," Ms Eaton said.
Seventy-year-old Dooren credits the volunteer work she does with the Reef Sisters with her staying connected with the community.
Another Reef Sister, Maria Mason, said: "The colours go with a lot of other different colour fabrics and you can add trims, you can add lace, buttons, whatever you like and it is just amazing what you are turning out.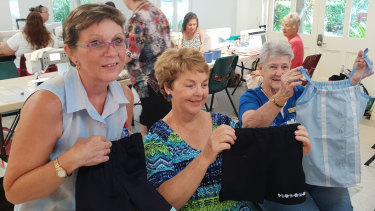 "All you need is your machine and your basic sewing equipment. There is a lot of really talented ladies in our group and we are all willing to help," she said.
Getting each batch of clothing ready to send out is a group effort.
Said Ms Downey: "You might have a production line, someone is cutting, someone is sewing, someone is doing something else on another machine overlocking it."
Far North District Chief Superintendent Brian Huxley urged locals to support this program.
"Uniforms 4 Kids is a very worthy cause and I encourage our officers to contribute old uniforms," he said. "I commend the Uniforms 4 Kids volunteers and thank them for their time and efforts."