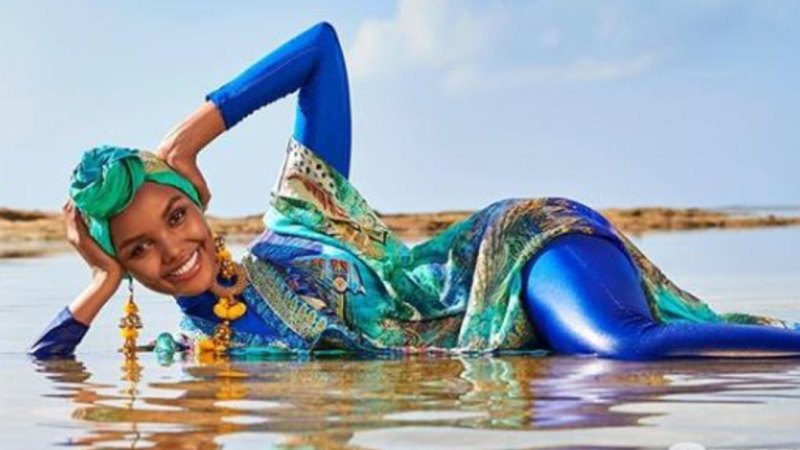 Aden said on a behind-the-scenes video filmed at the shoot: «Growing up in the United States, I never really felt represented because I never could flip through a magazine and see a girl who was wearing a hijab. Don't be afraid to be the first.»
During an interview on Good Morning America on Monday, US time, Aden said: «We definitely had a lot of moments where everybody was, like, breaking down crying because it's a huge moment.
«Sports Illustrated is proving that a girl that's wearing a bikini can be right alongside a girl that's wearing a burkini, and as women … we can come alongside each other and be each other's biggest cheerleaders celebrating the diversity of women.»
Sports Illustrated's annual swimsuit edition, which has been criticised by many feminist commentators for objectifying women, has championed greater diversity in recent years, in particular when it featured curvy model Ashley Graham on one of three covers it published in 2016.
Aden, its latest star, was born in a Kenyan refugee camp and arrived in the USA at age seven. She signed to IMG Models after making headlines for competing in hijab at the Minnesota Miss USA pageant in 2016. She became the first woman to wear her traditional Muslim headpiece for the entire competition, also opting to wear a burkini for the swimsuit round.
On the GMA interview, Aden paid tribute to another Sports Illustrated cover star, the singer Beyonce.
«I've never gotten to shoot in the ocean, wearing a swimsuit. I felt like I was Beyonce in that water. I was like living my best life. It was incredible.»
The magazine's editor, MJ Day, told Instyle magazine about the decision to include Aden: «I don't want the conversation to stop at body diversity, there have been too many limits placed on what a woman should wear and what she should look like in order to be considered worthy of being celebrated in the media, or taken seriously.
«We have had such meaningful impact on how women feel about themselves we won't stop there. For too long, women have been told they have specific boxes that they need to stay in, and SI Swimsuit knows we can help change that.»
With agencies
Melissa Singer is National Fashion Editor of The Sydney Morning Herald and The Age.