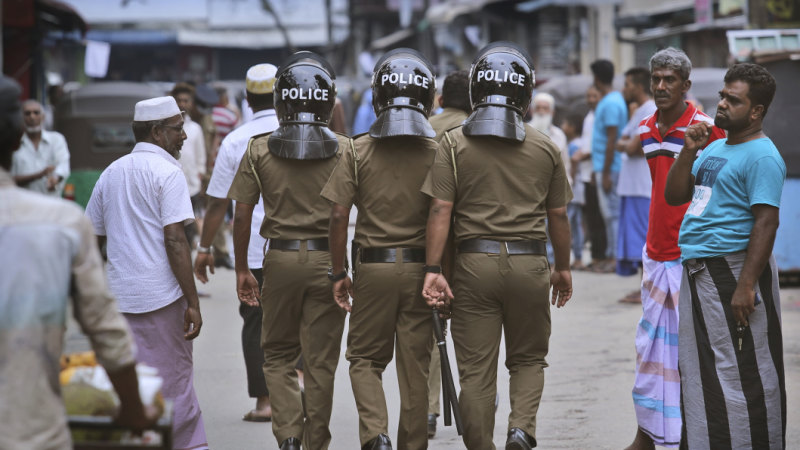 There were no attacks on Sunday, and security across Sri Lanka has been ramped up, with scores of suspected Islamists arrested since the April 21 attacks on hotels and churches that killed over 250 people, including 40 foreign nationals.
Loading
Authorities suspect members of two little known groups — National Thawheedh Jamaath (NTJ) and Jammiyathul Millathu Ibrahim — of carrying out those attacks, though Islamic State has claimed responsibility.
Muslim women will no longer be able to veil their faces under an emergency law ordered by President Maithripala Sirisena that bans all kinds of face coverings that may conceal people's identities.
The law takes effect from Monday. The decision came after the cabinet had proposed laws on face veils at a recent meeting. It had deferred the matter until talks with Islamic clerics could be held, on the advice of Prime Minister Ranil Wickremesinghe.
Sri Lanka's government lifted the curfew on Sunday night for the first time since the bombings, but in the capital Colombo police conducted random body checks and searches.
The letter said one of the fresh targets was in Batticaloa, a city on the East coast where 27 people were killed in a suicide bomb attack on a church. The location of the other targets was not mentioned.
Two cabinet ministers and two opposition lawmakers confirmed to Reuters that they were aware of the latest security alert.
«We have been informed about this by the MSD,» Health Minister Rajitha Senaratne said.
Earlier, police raided the headquarters of a hardline Islamist group founded by the suspected ringleader behind the Easter suicide bombings of churches and hotels.
Armed police in the town of Kattankudy searched the headquarters of the National Thowheeth Jamaath and detained one man at the premises, a Reuters reporter at the scene said. Police did not comment.
Police and military checkpoints dot the coastal roads, with people emptying out of buses to present their identity papers. On streets lined with shuttered shops, police officers with assault rifles look warily at passers-by. Whispers persist about the leader of the IS-pledged militant group, which preached the promise of heaven through the killing of others both here and online.
The scale of the explosives seized following Friday night's violence, as well as the continued warning of authorities that more militants remain on the loose, only add to the dread.
«Even though the security forces are here, it's not like earlier,» said Chandima Krishanthi, a 42-year-old market vendor in nearby Ampara. «We are living in fear. It's nothing like it used to be.»
Reuters, AAP, AP