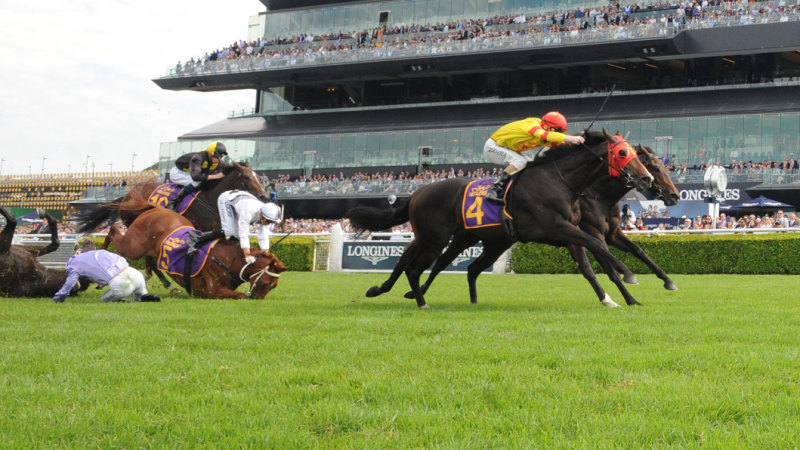 It has prompted Racing NSW to schedule a host of demonstration sessions next week where they will use lighter vehicles, including those similar to the dune buggies used by lifeguards, to mitigate the scarring of tracks.
«It may well be we instigate a third paramedic service where we have another response vehicle on a regular basis,» Racing NSW's chief steward Marc van Gestel said. «We have some demonstrations we're looking to put in place next week with vehicles that might service that need.
«We're looking at smaller vehicles that have less impact on the tracks and will be able to respond to fallen riders quickly. Part of the reason we went away from following the field is the damage to the tracks.»
The [NSW] Jockeys Association have expressed some concern in regards to response times, particularly in the home straight,

Marc van Gestel
Two stationary ambulances have typically been used for safety purposes at all ATC meetings, one parked behind the barriers and another at the top of the home straight.
But at least one of those in the past fortnight has been following the field until it enters the home straight, at which point the vehicle stops.
The NSW Jockeys Association has given the nod to Racing NSW's policy change.
Adkins has returned to the Mid North Coast to recover from his extensive injuries, which included a fractured eye socket, nose, sternum and breaks to his T2, T3 and T4 which won't require surgery.
A paramedic and club doctor stationed near the finishing post took less than a minute to reach Adkins after his fall from War Baron in the Fernhill Handicap, but an ambulance wasn't on the scene for two minutes.
Opponents of the change to the ambulance following fields have argued drivers have to be wary of loose horses when trying to attend to a fallen rider, which can be difficult if they are already inside the rail.
None of Sydney's four metropolitan tracks has a sealed road inside the course proper for an emergency vehicle to drive on. It is believed in some cases it would almost be impossible to build in any case given the narrowness between a course proper and inside track.
Loading
But van Gestel said the new edict is hoped to reduce the amount of time jockeys lay on the track without medical attention.
«The [NSW] Jockeys Association have expressed some concern in regards to response times, particularly in the home straight,» he said. «We're working with them to speed those up. Currently they're sitting between 90 seconds and two minutes to get to a jockey that has fallen near the winning post.»
Added the ATC's executive general manager of racing James Heddo: «We look forward to working Racing NSW throughout the process.»
Meanwhile, picnic rider Michael Hackett remained in an induced coma with his family bedside at Liverpool Hospital on Monday after a shocking three-horse fall at the Tomingley meeting on Saturday.
Adam Pengilly is a Sports reporter for The Sydney Morning Herald.