I have put in so many extra hours on the pitch as well as off the pitch, in the gym. I am 16 kilos heavier now than I was a couple of years ago.

Andrew Redmayne
«There is no right or wrong way, I am not criticising anyone. When I am in an environment I wholly buy into the direction that is set for the squad but the direction at Western Sydney was for a leaner model athlete,» Redmayne said.
The method has benefited others but perhaps not for Redmayne. Correlation doesn't imply causation but at his most thin, Redmayne was his least imposing in goal and that immediately changed when he arrived at Sydney FC.
«Here for me personally it's about being bigger, having more presence, being stronger and more powerful,» Redmayne said.
Under the guidance of goalkeeping coach John Crawley and Sydney's strength and conditioning coaches, Redmayne significantly increase his presence and became one of the club's hardest workers at their training ground. He undertook extensive technical work with Crawley on the pitch before going through an additional weight sessions in the gym ever day, except for those before games. By his count, he would spend about an extra six hours a week in the gym on top of the standard load required of all players. Two years after his arrival, he put on 16kg of muscle to tip the scales to 89kg.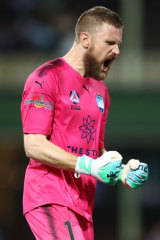 «I am looking good at the beach, that's for sure,» Redmayne said. «Well, actually I don't have a tan and I still have to wear a rashy shirt and slip, slop, slap but I am overall more fit, more robust. That's something that was one of my goals this year as it was last year — being robust, not missing a game, not missing a training session and I have succeeded at doing that.»
Not only was he bigger but stronger in the mind and when Vukovic was sold in July 2017 to Belgian club Genk — crowned champions on Friday morning — Redmayne had a chance to reclaim a starting spot in the A-League. He took that with both hands, clutching it as he does with high balls under pressure. He made that position his own and since Vukovic's departure, no Sydney FC player has spent more time on the field than he.
Redmayne has started every one of the club's 77 competitive fixtures and with consistent matches he has found form. He's saved four of five penalties this season and tellingly, a quarter of the games he plays in end up as clean sheets for Sydney. According to Redmayne, his resurgence in recent years is simply a by-product of his work on the training ground.
«I feel more calm, almost like I belong here,» Redmayne said. «I feel confident in my own ability. I feel like I have worked tirelessly, I have put in so many extra hours on the pitch as well as off the pitch, in the gym. I am 16 kilos heavier now than I was a couple of years ago.»
He arrived at Sydney FC with no shortage of detractors on social media before his performances began to win over fans. His form earned him the nickname of «Bluemayne» among supporters but just as he ignored his critics, he doesn't lap-up the praise either.
«I take it as it comes, I roll with the punches I guess,» he said.
Any critics have become mere murmurs this season but Redmayne has a chance to silence the last remaining ones with a win in Sunday's grand final against Perth Glory. He'll face his former coach, Popovic, and while he has only kind words to say about his old boss, he makes no secret that its his new home that's brought out the biggest and best he has to offer.
«I have always believed in my own ability and it's just good to be at a club that does also,» Redmayne said. «This club, this environment fosters positivity and I think the boys are relishing being in that environment.»
Dominic Bossi is a football reporter with The Sydney Morning Herald.