The latest figures show daily trips on the widened M4, for which tolls were reintroduced in 2017, averaged 137,000 in the March quarter, barely unchanged on the same period a year earlier.
Transurban also told investors on Monday that it expects to eventually have the chance to snap up the remaining 49 per cent stake in WestConnex owned by the state government.
«At some point we would expect to have the opportunity to purchase the additional 49 per cent stake in WestConnex should the government decide to sell their remaining asset,» Transurban chief executive Scott Charlton said.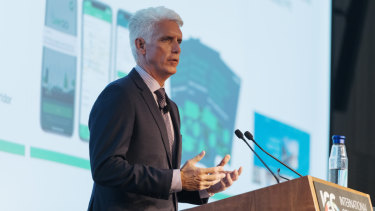 Last year a Transurban-led consortium paid the NSW government $9.3 billion for a majority stake in the 33-kilometre WestConnex motorway project.
Loading
The first major part of WestConnex – the M4 East from Homebush to Haberfield – is scheduled to be opened to motorists by August, several months later than expected.
Cars will be charged up to $4.27 for a one-way trip on the 6.5-kilometre M4 East, while tolls for trucks will be triple that amount.
Like the other parts of WestConnex to be opened over the next four years, distance-based tolls will rise by at least 4 per cent a year, which at present is well above the rate of inflation.
The outcome of the state election last month has also provided greater certainty for Transurban's ambitions in NSW over the coming years.
Matt O'Sullivan is the Transport Reporter for The Sydney Morning Herald.