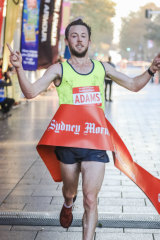 Running in some old work gear some time later, his fellow runners were so inspired by the hardworking Olympic aspirant in his workaday clothes that he continued to wear them each race in honour of weekend warriors.
Reigning champion Joel Tobin-White from Box Hill in Victoria came second with a time of 1:06:17, reversing the situation last year when he beat Adams by 15 seconds. Matthew Cox of Chester Hill was third at 1:09:56.
The fastest female runner was Ellie Pashley from Torquay, Victoria, a first time entrant who posted 1:12:51.
Leanne Pompeani came second at 1:15:10, followed by Milly Clark of East Launceston, Tasmania, at 1:15:55.
In the Elite Wheelchair Sprint, Gregory Luff from Miranda won, followed by Jono Tang and Richard Nicholson. The fastest woman Sarah Clifton-Bligh came in fourth.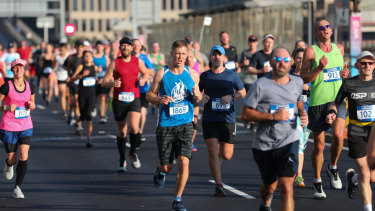 There were 11,250 runners who took part in the event, which takes in the Botanic Gardens, Harbour Bridge, The Rocks, the Opera House, Pyrmont Peninsula and Hyde Park and raised more than $750,000 for charity.
The biggest charity group, Running for Premature Babies, hit its target of $250,000.